"E-commerce sites? The anti-crisis online shop"
Request for Information
The structure of an E-commerce website provides more opportunities to sell because it's like having a shop that never closes, so your customers can visit you whenever they want and stay as long as they like. The website is designed in dynamic mode and can host an unlimited number of product information sheets and images.
Multiple images for each product with automatic resizing;
Multilingual modules, Bid Management, novelty, "featured products";
Advanced internal product search engine;
Automatic generation of meta tags for each product guarantees results on search engines.
Future Touch will design and set-up your e-commerce site, starting from a standard graphic template, and provide your personnel with all the support and information necessary to have it up and running in no time at all
A simple, intuitive control panel allows you to manage all your content directly, and our free post-sales customer assistance service will be available for your every need.
The E-Commerce Site package promotion includes:
The annual fee for the client domain name;
Mailboxes with anti-spam + certified mail;
Web space and bandwidth capable of handling thousands of visits;
Statistics and access counter;
Updates to text and images;
Indexing on major search engines.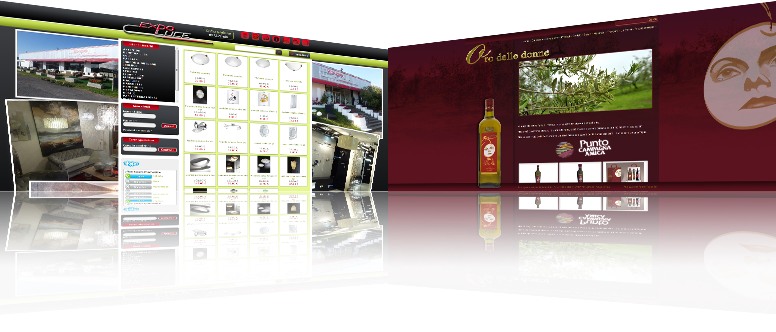 Other important aspects of a functioning e-commerce include:
Ease of use and purchase by the consumer:
Product cart always visible, with details of purchased items and total amount;
Simple and intuitive purchasing process where the customer is only required to enter the essential billing, delivery and payment data.
Secure payment by credit card or pre-paid method (Paypal, Postepay and/or bank transfer - Cash Transfer)
The Seller must be able to access the e-commerce in complete autonomy via the control panel, in order to manage:
Product catalogue;
Terms and conditions of sale;
Order fulfilment;
Website content;
Sales strategy tools (eg. discounts or promotions).
FUNCTIONS
In order to represent the store, products and promotions, and to assist visitors in making their selections and purchases, E ecommerce sites must be designed so that the following items are clearly visible:
Store, company and product presentations;
Shopping carti;
Featured products catalog;
Internal site search engine;
Information and Conditions of sale.
Private client login area:
The following areas may be used to manage content and/or data; to access them it is necessary to enter a valid user name and password:
Seller reserved area (store management);
Customer reserved area (management of personal information and orders).